The Constitution and Almanac of the New Cosmos in Dragon Logos Law and Jurisprudence

The Council of Thuban Templated and Authorized by the Twin Logos
Preamble:
This information is 'sensitive' with respect to the 'old human mind' and therefore will not be shared 'a priori' on any non-Thuban affiliated forums.
This data is however not classified or secret and any unaffiliated visitor to the stated links of the source codes, is free to share, copy and disseminate without copyright restrictions the 'sensitive' information as he or she might desire so to do.
Old human administration and moderation and censorship on all levels of the old legislatures, will be circumscribed in a manner chosen by the Council of Thuban, authorized and manifested under the auspices and jurisprudence of Dragon Logos Law.
What this new legislative charter with its redefined executive function implies for the transition of the 'old human order' into a 'new starhuman order' shall become apparent in the data base of the linked information lexicons and libraries.

The cosmic nature of some of the information described in the translation of those source codes can be said to be 'alien' to the human way of perception. This is simply an effect of a necessary 'cocooning' or quarantine of what is termed the 'old human species' in this almanac.
This 'old human' is doomed to cosmic extinction, being superceded by its 'new starhuman' quantum wave progenitor, defined as its own descendant in morphology or structural form in biophysically inducted geometry.
The Council of Thuban:
The Council of Thuban became established and Logos authorized to intersect and mirror the old human orders on Dragon StarDate DSD#1/2372012 to reveal the new reconfigured 'shadow' cosmic government in parallel to the old established human structures of political, socio-economic and militaristic authorities and quasi-autocracies in oligarchical plutocracy defined in the order of the distribution of environmentally derived resources.

Some of the 'human mind sensitive' data relates to the nature of the Council of Thuban and how this 'Order of the Dragon' becomes manifest in the 'Old World' from its templated mirror state in the 'New World.
The Council of Thuban is Logos chosen in its template form, but following the 'filling of the ambassadorian offices'; this cosmic blueprint will be released to manifest on all locations in the quarantine zone, known as the human homeplanet Gaia Akashia or Earth Terra.

The first information release from the Council of Thuban, therefore shall describe an universal cosmic template of 'governance by elders' applicable to any community or group of inhabitants at its occupancy at whatever 3-dimensional locality.

This locality on Terra represents a cosmic manifesto of Dragon Law and is bounded by this law in relation to the ability of the occupants or cosmic citizens to understand and apply this legislature in a new starhuman mindfulness of perception and wisdom.
The actual implementation of 'living as a cosmic starhuman' becomes a function of the individual adeptness and quality of the elders as community elected ambassadors and also as a function of the state of the communal group consciousness and cosmic awareness to understand the nature of the stipulations from its founding councils.

The founding councils are progenitive and Logos chosen as a function of the Inheritance of the human remembrance to either accept or reject this inheritance.
It is this self remembrance, which differentiates the old human from the new human in terms of quality and fitness for cosmic ambassadorhood.

This cosmic ambassadorship relates to the cosmogony of the evolvement of the cosmic mind, began so 2,200 million years from the inauguration of the dragon law.
The cosmic sentience is comprised of many progenitors found within the old human genetic stock, and its morphed bodyforms, which are biophysically engineered to host the ancestral waveform as a form of cosmic consciousness blended with a cocooned or exiled and spacetime restricted form of 'human uniqueness'.

One of the criteria to qualify as a 'cosmic starhuman representative' in the Councils of Thuban is to remember the ancestral lineages as descendents of the founders from quantumspace.

There are 5 months of preparation from DSD#1 to DSD#152 and the actions of the Council of Thuban will assume a form as appropriatedness, depending on the authorisation of the Council by the Cosmic Twin Logos and the cosmic auspices of the Councils of Thuban separated from the cocoon of planet earth and the quarantine zone of the old human stock, seeking to graduate into cosmic citizenhip.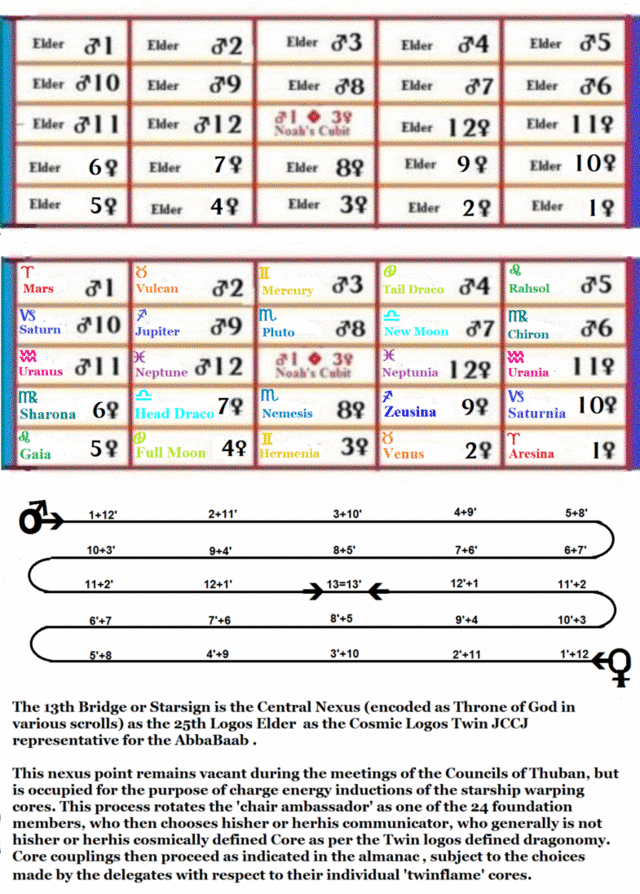 Revelation 4: (KJV)

1 After this I looked, and, behold, a door was opened in heaven: and the first voice which I heard was as it were of a trumpet talking with me; which said, Come up hither, and I will shew thee things which must be hereafter.
2 And immediately I was in the spirit: and, behold, a throne was set in heaven, and one sat on the throne.
3 And he that sat was to look upon like a jasper and a sardine stone: and there was a rainbow round about the throne, in sight like unto an emerald.
4 And round about the throne were four and twenty seats: and upon the seats I saw four and twenty elders sitting, clothed in white raiment; and they had on their heads crowns of gold.
5 And out of the throne proceeded lightnings and thunderings and voices: and there were seven lamps of fire burning before the throne, which are the seven Spirits of God.
6 And before the throne there was a sea of glass like unto crystal: and in the midst of the throne, and round about the throne, were four beasts full of eyes before and behind.
7 And the first beast was like a lion, and the second beast like a calf, and the third beast had a face as a man, and the fourth beast was like a flying eagle.
8 And the four beasts had each of them six wings about him; and they were full of eyes within: and they rest not day and night, saying, Holy, holy, holy, Lord God Almighty, which was, and is, and is to come.
9 And when those beasts give glory and honour and thanks to him that sat on the throne, who liveth for ever and ever,
10 The four and twenty elders fall down before him that sat on the throne, and worship him that liveth for ever and ever, and cast their crowns before the throne, saying,
11 Thou art worthy, O Lord, to receive glory and honour and power: for thou hast created all things, and for thy pleasure they are and were created.


The open and public links are:
BirthofGaia
Thuban Cosmosdawn
Date of Inauguration: Sunday, July 22nd, 2012 at 10:01 UCT
This is the terran timestamp for the astrodynamic ingress of the local star Rahsol from the elder tribal sign of Cancer into the elder tribal sign of Leo.

Dragon StarDates or DSDs so are reckoned from the Day of the Dragon QueenBee or the Cosmic Mother Goddess Mary Magdalene and stipulated as Sunday, July 22nd, 2012 as DSD#0.

DSD#152 as the Logos defined completion of the 'old human harvest' so will be the 153rd 'Vesica Pisces' Day and is astrodynamically defined in the terran timestamp for the solar ingress of Rahsol from the elder tribal sign of Sagittarius into the elder tribal sign of Capricorn: Friday, December 21st, 2012 at 11:12 UCT.

DSD#302 as 150+3+150=303 days, then mirrors the '153 Fishdays of Intersection' in the Solar Transit from Taurus into Gemini on Monday, May 20th, 2013 at 21:09 UCT.

Any five consecutive months, not including February will add to 153 days as the Vesica Pisces of the 'Flood of Noah' and the 'Curse of the Scorpions' in Genesis.7 and Revelation.9.1-12 respectively.






THE13thBRiDGE-SUSAN

DSD#1
Ted Collie has sent us in this interesting photo collage regarding the recent crop formation at 'The Wrekin', Shropshire, UK, with his text:
- 'This confused me initially, because they are showing a path of the Moon beginning on July 23, yet two planets and spica on August 4. That is why Saturn, Mars and Spica as shown in the computer-generated sky diagram do not match the crop picture for a Moon date of July 23; two astronomical dates, not one.'
#Generation
Luke.3.31-38
2012 Dates
(2011/2013)
Generation#
Luke.3.23-30
#Generation
Matthew.1.1-17/Genesis
Encoding
Commentary
#Day
DSD#
Thu24Mar 2011
Palm Saturday 31AD
Sabbath-Mirror Hiddekel
Dan.10.4
1980 year warp from 31AD
0
Fri25Mar 2011
Palm Sunday 31AD

1980 year warp from 31AD
1
Mon28Mar 2011
4=494-490=490-486
Passion Wednesday 31AD
Dan.9.25-27
1980 year warp from 31AD
4
Thu31Mar 2011
7=497-490=490-483
=397-390=377-370
Easter Saturday 31AD
Dan.9.25-27
1980 year warp from 31AD
7
Fri01Apr 2011
490=434+49+3½+3½
Easter Sunday 31AD
Dan.9.25-27
1980 year warp from 31AD
8
Sun17Apr 2011
Palm Sunday 2011

24
Wed20Apr 2011
Passion Wednesday 2011

27
Sun24April 2011
Easter Sunday 2011

31
Sun01May 2011
Beltane 2011
38
Tue10May 2011
Ascension Thursday 31AD
1980 year warp from 31AD
47
Fri20May 2011
Pentecost Sunday 31AD
1980 year warp from 31AD
57
Thu02Jun 2011
Ascension Thursday 2011

70
Sun12Jun 2011
Whit Sunday 2011

80
Mon04Jul 2011
265+7+265=537=268+1+268
102=638-536
Independence Day 2011

AntiGestation of 265+3½=268½ days
102
Thu01May 2014
6Cib9Uo = 13.0.1.6.16
152+406+90=558+90=648
Rev.20

Beltane-Walpurgis Nacht 2014
1134
648
Wed30Apr 2014
5Men8Uo = 13.0.1.6.15
152+406+90=558+90=648
as 647+0 days
Rev.20.3

Beltane-Walpurgis Nacht 2014
The Little Season of Satan as 360/4=90 days in a quarter year
1133
647
Fri31Jan 2014
7Cimi4Pax = 13.0.1.2.6
152+391+15=558
Rev.9.15

Euphrates 391+15=406 HOUR Calibration

1044
558
Thu16Jan 2014
5Chuen9Muan = 13.0.1.1.11
152+391=543
Rev.9.15

Euphrates 4 Corner YDMH Calibration

1029
543
Wed15Jan 2014
4Oc8Muan = 13.0.1.1.10
152+390=542
Eze.4.1-6

Ezekiel Israel TIME Calibration

1028
542
Mon06Jan 2014
8Imix19Kankin = 13.0.1.1.1
yyy

Epiphany/Theophany of the Nativity in 3 Magi 2014 in 12+1=13 days of Christmas 2013

1019
533
Wed01Jan 2014
3Cib14Kankin = 13.0.1.0.16
yyy

New Year 2014

1014
528
Wed25Dec 2013
9Muluc7Kankin = 13.0.1.0.9
yyy

Christmas 2013

1007
521
Sat21Dec 2013
5Chicchan3Kankin = 13.0.1.0.5
yyy

December Solstice 2013

1003
517
Wed18Dec 2013
2Ik0Kankin = 13.0.1.0.2
1000=430+570
=430+40+450+40+40

2Pet.3.8&Rev.20.1-6
Acts.13.17-21
Millennium of 1000 dayyears

1000
514
Tue17Dec 2013
1Imix19Mac = 13.0.1.0.1

2Pet.3.8&Rev.20.1-6
Millennium of 1000 dayyears
0+999=1000 days
999
513
Mon16Dec 2013
13Ahau18Mac = 13.0.1.0.0
Calibration of Mayan Long Count in 25,627.795... Civil Years
9,360,360 Kin = 65 Baktun (144,000x5x13) + 360 Kin as a 'prophetic' Platonic Degree Year Cycle from Friday, December 21st, 2012

998
512
Tue28May 2013
0+360+30+1+(15)+1+30+360
=391+(7½+7½)+391=797 days
1Hour/1Day=1/24
=15Days/1Year=15/360
Rev.8.1&Rev.9.15

Timeline from March 24th, 2011 to May 28th, 2013
796
310
Sat25May 2013
Wesak-Buddha Full Sagittarius Moon in Gemini Sun at 4°8' at 04:25 UCT on May 25th, 2013 & Lunar Eclipse
793
307
Mon20May 2013
788=781+7=366+365+49+1+7
150+3+150=0+302=0+152+150 as 303=150+1+1+1+150 days
Pentecost Monday 2013
1982 year warp from 31AD
Solar Transit from Taurus into Gemini on Monday, May 20th, 2013 at 21:09 UCT

788
302
Sun19May 2013
Whit Sunday 2013
1982 year warp from 31AD
787
301
Fri10May 2013
Ascension Friday 2013
1982 year warp from 31AD
New Moon in Taurus Sun at 00:28 UCT at 19°31' on May 10th, 2013 & Solar Eclipse
778
292
Thu9May 2013
Ascension Thursday 2013
1982 year warp from 31AD
777
291
Wed01May 2013
Beltane 2013
769
283
Thu25Apr 2013
Full Scorpio Moon in Taurus Sun at 5°46' at 19:57 UCT on April 25th, 2013 & Lunar Eclipse
763
277
Wed10Apr 2013
New Moon in Aries Sun at 20°41' at 09:35 UCT on April 10th, 2013
748
262
Sun31Mar 2013
Easter Sunday 2013
1982 year warp from 31AD
738
252
Wed27Mar 2013
Passion Wednesday 2013
1982 year warp from 31AD
Full Libra Moon in Aries Sun at 6°32' Aries at 09:27 UCT on March 27th, 2013
734
248
Sun24Mar 2013
Palm Sunday 2013
1982 year warp from 31AD
731
245
Wed20Mar 2013
March Equinox 2013 at 0° Aries at 11:02 UCT on March 20th, 2013
727
241
Mon11Mar 2013
New Moon in Pisces Sun at 21°24' at 19:51 UCT on March 11th, 2013
718
232
Mon25Feb 2013
Full Virgo Moon in Pisces Sun at 7°24' at 20:26 UCT on February 25th, 2013
704
218
Sun10Feb 2013
New Moon in Aquarius Sun at 21°43' at 07:20 UCT on February 10th, 2013
689
203
Sun27Jan 2013
Full Leo Moon in Aquarius Sun at 7°24' at 04:38 UCT on January 27th, 2013
675
189
Fri11Jan 2013
New Moon in Capricorn Sun at 21°46' at 19:44 UCT on January 11th, 2013
659
173
Fri28Dec 2012
Full Cancer Moon in Capricorn Sun at 7°6' at 10:21 UCT on December 28th, 2012
645
159
Fri21Dec 2012
150+3+150=0+302=0+152+150 as 303=150+1+1+1+150 days
265+7+265=537=268+1+268
638=536+102
Solar Transit from Sagittarius into Capricorn on Friday, December 21st, 2012 at 11:12 UCT
Twin Pregnancy from July 4th, 2011 to March 28th, 2012 to December 21st, 2012 in 537 days

638
152
Thu13Dec 2012
New Moon in Sagittarius Sun at 21°45' at 08:42 UCT on December 13th, 2012
630
144
Wed28Nov 2012
Full Gemini Moon in Sagittarius Sun at 6°47' at 14:46 UCT on November 28th, 2012 & Lunar Eclipse
615
129
Tue13Nov 2012
New Moon in Scorpio Sun at 21°57' at 22:08 UCT on November 13th, 2012 & Solar Eclipse
600
114
Mon29Oct 2012
Full Taurus Moon in Scorpio Sun at 6°48' at 19:49 UCT on October 29th, 2012
585
99
Mon15Oct 2012
New Moon in Libra Sun at 22°32' at 12:03 UCT on October 15th, 2012
571
85
Sun30Sep 2012
Full Aries Moon in Libra Sun at 7°22' at 03:19 UCT on September 30th, 2012
556
70
Sun16Sep 2012
New Moon in Virgo Sun at 23°37' at 02:11 UCT on September 16th, 2012
542
56
FriAug31 2012
Full Pisces Blue Moon in Virgo Sun at 8°34' at 13:58 UCT on August 31st, 2012
526
40
Fri17Aug 2012
New Moon in Leo Sun at 25°8' Aries at 15:54 UCT on August 17th, 2012
512
26
-76=God
Mon05Mar 2012
Christ=77+76
347=470-123
Num.33.38-39&Deut.34
Birthday of Aaron
347
-73=God
Thu08Mar 2012
Christ=77+73
350=470-120
Num.33.38-39&Deut.34
Birthday of Moses
350
-53=God
Wed28Mar 2012
Christ=77+53
40+110+74+40+7+7+36+56=370
265+7+265=537=268+1+268
370=638-268
Noah's Rainbow Covenant
Gen.7&Gen.8
Logos Christ Mirror of Mirrors
1981 year warp from 31AD
Gestation of 265+3½=268½ days
370
-49=God
Sun01Apr 2012
Christ=77+49
Palm Sunday 2012
374
-46=God
Wed04Apr 2012
Christ=77+46
377-370=7 Days=1 Week
Week of Confusion
Building of the Ark
Passion Wednesday 2012
Gen.7.4&Eze.3.15-16
377
-42=God
Sun08Apr 2012
Christ=77+42
Easter Sunday 2012
381
-33=God
Tue17Apr 2012
Christ=77+33
390=430-40
Eze.4.1-5
Ezekiel's Siege of Israel
390
-32=God
Wed18Apr 2012
Christ=77+32
Dan.10.2&Dan.10.13
&Rev.9.15
21 Days of Gabriel-Michael
391=370+21
391
-31=God
Thu19Apr 2012
Christ=77+31
-7=1st Mirror Day of 15
392
-26=God
Tue24Apr 2012
Christ=77+26
-2=6th Mirror Day of 15
Eze.4.1-6

Ezekiel's Week of Astonishment
397=390+7
397
-25=God
Wed25Apr 2012
Christ=77+25
-1=7th Mirror Day of 15
398
-24=God
Thu26Apr 2012
Christ=77+24
0=8th Mirror Day of 15
Gen.15.13
400 Years of Servitude of Abrams' Seed
399
-23=God
Fri27Apr 2012
Christ=77+23
1=9th Mirror Day of 15
400
-19=God
Tue01May 2012
Christ=77+19
5=13th Mirror Day of 15
Beltane 2012
404
-17=God
Thu03May 2012
Christ=77+17
7=15th Mirror Day of 15
406
-16=God
Fri04May 2012
Christ=77+16
407
-14=God
Sun06May 2012
Christ=77+14
Full Scorpio Wesak-Beltane Super Moon in Taurus Sun at 16°1' at 03:35 UCT on May 6th, 2012
409
-3=God
Thu17May 2012
Christ=77+3
Ascension Thursday 2012
420
-2=God
Fri18May 2012
Christ=77+2
421
-1=God
Sat19May 2012
Christ=77+1
422
0=God
Sun20May & Sun05Aug
Christ=77
430+70=500 dayyears
Egyptian + Babylonian Captivity
Gen.6.3&Deut.34
&Dan.9.1-2
First New Moon = New Gemini Moon in Gemini Sun at 0°21' at 23:47 UCT on May 20th, 2012 & Solar Eclipse
30 Dayyears of Moses's Death before Joshua's Crossing of Jordan
423/500
14
1=Adam
Mon21May & Sat04Aug
Jesus=76
1*=Adam
Gen.5.1-5
Baptism Wednesday 28AD Julian
1980+3=1983 year warp from 28AD
424/499
13
2=Seth

Tue22May & Fri03Aug
Joseph=75
2*=Seth
Cain-Abel
Gen.5.6-8
&Gen.4
425/498
12
3=Enos
Wed23May & Thu02Aug
Heli=74
3*=Enos
Gen.5.9-11
Baptism Wednesday 28AD Gregorian
Third Full Moon = Full Aquarius Blue Moon #3 in Leo Sun at 10°15' at 03:28 UCT on August 02nd, 2012
497=490+7=490+3½+3½
426/497
11
4=Cainan
Thu24May & Wed01Aug
Matthat=73
4*=Cainan=Cain
Gen.5.12-14
427/496
10
5=Maleleel
Fri25May & Tue31Jul
Levi=72
5*=Mahalaleel=Mehujael
Gen.5.15-17
&Dan.10.2&Dan.10.13
&Rev.9.15
21 Days of Gabriel-Michael in Hour Mirror
21=391-370=428-407
428/495
9
6=Jared
Sat26May & Mon30Jul
Melchi=71
6*=Jared=Irad
Gen.5.18-20
&Dan.9.27
Midweek Day July 30th, 2012
497-3=494
429/494
8
7=Enoch
Sun27May & Sun29Jul
Janna=70
7*=Enoch=Enoch
390+40=430
Pentecost Sunday 2012
Gen.5.21-24&Exo.12.40
&Eze.4.6-8
Ascension of Enoch
Ezekiel's Siege of Judah
Egyptian Captivity
430/493
7
8=Mathusalah
Mon28May & Sat28Jul
Joseph=69
8*=Methuselah=Methusael
Gen.5.25-27
431/492
6
9=Lamech
Tue29May & Fri27Jul
Mattathias=68
9*=Lamech=Lamech
Gen.5.28-32
432/491
5
10=Noe
Wed30May & Thu26Jul
Amos=67
10*=Noah&Amzara
=Naamah&Tubalcain
434+49+7=490 days
=62+7+1 weeks
Gen.6.9-10
&Dan.9.25-27
Perfect generation mirror God-Noah-Abraham
in Adah-Zillah Sisterhood
433/490
4
11=Sem
Thu31May & Wed25Jul
Naum=66
11*=Shem
Gen.11.10-11
434/489
3
12=Arphaxad
Fri01Jun & Tue24Jul
Esli=65
12*=Arphaxad
Gen.11.12-13
435/488
2
13=Cainan
Sat02Jun & Mon23Jul
Nagge=64
Cursed Cainan Generations in
Generations 4 to 10 and -1 to -7
Redeemed in Cosmic Twinship
Gen.4
&Dan.9.24-27
Midweek Day July 23rd, 2012
490-3=487
436/487
1
14=Sala
Sun03Jun & Sun22Jul
Maath=63
-7=Salah/Jesusina 74ina Maria=42
Tubalcain&Naamah of Zillah
New BrotherSisterhood
150+3+150=0+302=0+152+150 as 303=150+1+1+1+150 days
Left Twin Christ Jesus
New AbelCain as SisterBrother
Gen.11.14-15
Pause - Think of That - Selah!
Mary Magdalene Day on July 22nd, 2012
Queen=62=Magdalene
Solar Transit from Cancer into Leo on Sunday, July 22nd, 2012 at 10:01 UCT

437/486
0
15=Heber
Mon04Jun & Sat21Jul
Mattathias=62
-6=Eber/Jesus=New=42
Jabal&Jubal of Adah
New Brotherhood
Right Twin Jesus Christ
New CainAbel as BrotherSister
Gen.11.16-17
First Full Moon = Full Sagittarius Moon in Gemini Sun at 14°14' at 11:12 UCT on June 4th, 2012 & Lunar Eclipse

438/485
16=Phalec
Tue05Jun & Fri20Jul
Semei=61
-5=Peleg/Lamech/Mary=41
Gen.11.18-19
439/484
17=Ragau
Wed06Jun & Thu19Jul
Joseph=60
-4=Reu/Methusael/Joseph=40
440-10=430=390+40
440=370+70
10 Days of Imprisonment
Babylonian Captivity of Jerusalem
Gen.11.20-21&Rev.2.10
&Dan.9.1-2
Venus Transit 2012 at Tuesday/Wednesday, June 5th/6th 2012 from 22:04-01:29-04:55 UCT
Third New Moon = New Cancer Moon in Cancer Sun at 26°55' at 04:24 UCT on July 19th, 2012

440/483
18=Saruch
Thu07Jun & Wed18Jul
Juda=59
-3=Serug/Mehujael/Jacob=39
Gen.11.22-23
441/482
19=Nachor
Fri08Jun & Tue17Jul
Joanna=58
-2=Nahor/Irad/Matthan=38
Gen.11.24-25
442/481
20=Thara
Sat09Jun & Mon16Jul
Rhesa=57
-1=Terah/Enoch/Eleazar=37
4th year of Solomon's reign
480=470+10=470+7+3
Gen.11.26-32
&1Kings.6.1
Building of the City of Enoch
Building of Solomon's Temple
443/480
21=Abraham
Sun10Jun & Sun15Jul
Zorobabel=56
1=Abraham/Eliud=36
3rd year of Solomon's reign
Zech.4&1Kings.6.1
Completion of the Temple Plan
444/479
22=Isaac
Mon11Jun & Sat14Jul
Salathiel=55
2=Isaac/Achim=35
2nd year of Solomon's reign
1Kings.6.1
445/478
23=Jacob
Tue12Jun & Fri13Jul
Neri=54
3=Jacob/Sadoc=34
Esau-Jacob
1st year of Solomon's reign
Eze.48.11&1Kings.6.1
&Gen.25.21-34
David's Loyal Priesthood of Zadok
446/477
24=Juda
Wed13Jun & Thu12Jul
Melchi=53
4=Judas/Azor=33
Judah-Shuah-Tamar
Er-Onan-Shelah
Acts.13.18-20
Gen.38
7th Nation of Chanaan
GOT#105(Lambdin):
Jesus said, "He who knows the father and the mother will be called the son of a harlot."
447/476
25=Phares
Thu14Jun & Wed11Jul
Addi=52
5=Phares/Eliakim=32
Pharez-Zarah
Acts.13.18-20
Gen.38
6th Nation of Chanaan
448/475
26=Esrom
Fri15Jun & Tue10Jul
Cosam=51
6=Esrom/Abiud=31
Acts.13.18-20
5th Nation of Chanaan
449/474
27=Aram
Sat16Jun & Mon09Jul
Elmodam=50
7=Aram/Zorobabel=30
450=440+10=440+7+3=480-30
473=480-7
Acts.13.18-20
4th Nation of Chanaan
450/473
28=Aminadab
Sun17Jun & Sun08Jul
Er=49
8=Aminadab/Salathiel=29
Acts.13.18-20
3rd Nation of Chanaan
451/472
29=Naasson
Mon18Jun & Sat07Jul
Jose=48
9=Naasson/Jechonias=28
Acts.13.18-20
2nd Nation of Chanaaan
Captivity of Babylon
452/471
30=Salmon
Tue19Jun & Fri06Jul
Eliezer=47
10=Salmon/Josias=27
430+40=470
Acts.13.18-20&Eze.4.6
Num.33.38-39&Deut.34
1st Nation of Chanaan
Second New Moon = New Gemini Moon in Gemini Sun at 28°43'
at 15:02 UCT on June 19th, 2012
Last righteous king of Israel
Wilderness of Sinai and Death of Aaron and Moses
453/470
31=Booz
Wed20Jun & Thu05Jul
Jorim=46
11=Booz/Amon=26
430+40=470 as 469+0 days
469=366+103
Acts.13.18&Eze.4.6

Booz of Rachab
July 5th, 2011 + 366 = July 5th, 2012
454/469
32=Obed
Thu21Jun & Wed04Jul
Matthat=45
12=Obed/Manasses=25
Independence Day 2012
Ruth.4.17
Obed of Ruth
455/468
33=Jesse
Fri22Jun & Tue03Jul
Levi=44
13=Jesse/Ezekias=24
Second Full Moon = Full Capricorn Moon in Cancer Sun at 12°13' at 18:53 UCT on July 03rd, 2012

456/467
34=David
Sat23Jun & Mon02Jul
Simeon=43
14=David/Achaz=23
Isa.38.8
10° as 10 Shadow Days of Degrees of Ahaz
Sat23Jun - Mon02Jul 2012
457/466
35=Nathan
Sun24Jun & Sun01Jul
Juda=42
15=Solomon/Joatham=22
2Samuel.12.24
Solomon of Bathsheba
458/465
36=Mattatha
Mon25Jun & Sat30Jun
Joseph=41
16=Roboam/Ozias=21
459/464
37=Menan
Tue26Jun & Fri29Jun
Jonan=40
17=Abia/Joram=20
460/463
38=Melea
Wed27Jun & Thu28Jun
Eliakim=39
18=Asa/Josaphat=19
461/462
Gospel of Thomas: (Lambdin)
(8) And he said, "The man is like a wise fisherman who cast his net into the sea and drew it up from the sea full of small fish. Among them the wise fisherman found a fine large fish. He threw all the small fish back into the sea and chose the large fish without difficulty. Whoever has ears to hear, let him hear."

(17) Jesus said, "I shall give you what no eye has seen and what no ear has heard and what no hand has touched and what has never occurred to the human mind."


John.21.1-11: King James Version (KJV)
1 After these things Jesus shewed himself again to the disciples at the sea of Tiberias; and on this wise shewed he himself.
2 There were together Simon Peter, and Thomas called Didymus, and Nathanael of Cana in Galilee, and the sons of Zebedee, and two other of his disciples.
3 Simon Peter saith unto them, I go a fishing. They say unto him, We also go with thee. They went forth, and entered into a ship immediately; and that night they caught nothing.
4 But when the morning was now come, Jesus stood on the shore: but the disciples knew not that it was Jesus.
5 Then Jesus saith unto them, Children, have ye any meat? They answered him, No.
6 And he said unto them, Cast the net on the right side of the ship, and ye shall find. They cast therefore, and now they were not able to draw it for the multitude of fishes.
7 Therefore that disciple whom Jesus loved saith unto Peter, It is the Lord. Now when Simon Peter heard that it was the Lord, he girt his fisher's coat unto him, (for he was naked,) and did cast himself into the sea.
8 And the other disciples came in a little ship; (for they were not far from land, but as it were two hundred cubits,) dragging the net with fishes.
9 As soon then as they were come to land, they saw a fire of coals there, and fish laid thereon, and bread.
10 Jesus saith unto them, Bring of the fish which ye have now caught.
11 Simon Peter went up, and drew the net to land full of great fishes, an hundred and fifty and three: and for all there were so many, yet was not the net broken.

Logos Basis and Dragon Law #1: - The general topology

The Dragon Omniverse is self-communicative as a macrocosmic entity harbouring holofractal microcosmic subsystems as parts of itself.
The macrocosmic entity resides in an interwoven, but colocal spacetime matrix in a metrically defined linespace of 3 dimensions, which is convoluted or extended in colocality by 3-dimensional tiers of rotation, vibration and quantization to define a 12-dimensional Omniverse in 12 spacial dimensions of self closure and without temporality.
A three dimensional seedling space of linear translation so forms the basis for a superposed temporality or time perception to manifest as timegate between the translational omniverse and the rotational omniverse in timegate 4 and the rotational omniverse and the vibrational omniverse in timegate 7 and the vibrational omniverse and the quantum omniverse in timegate 10.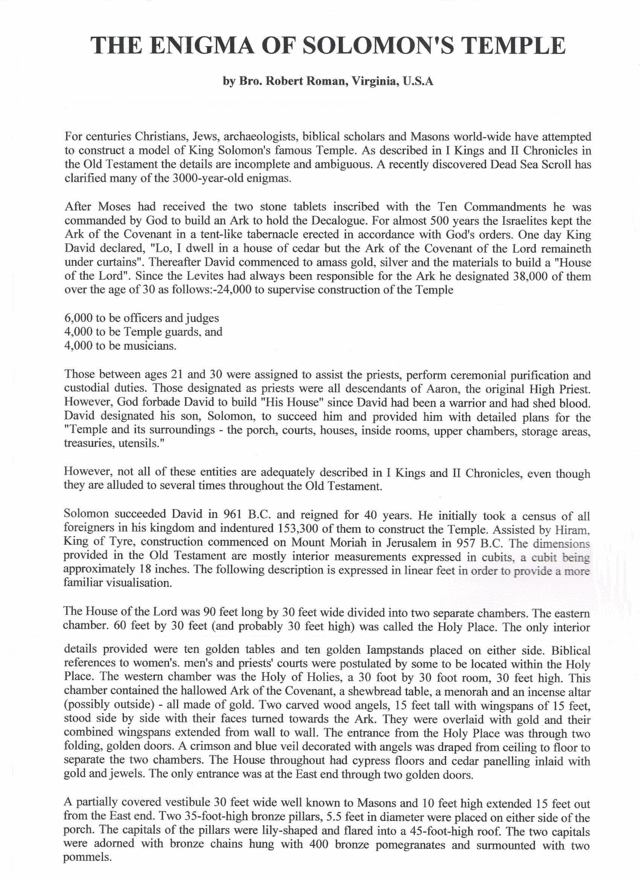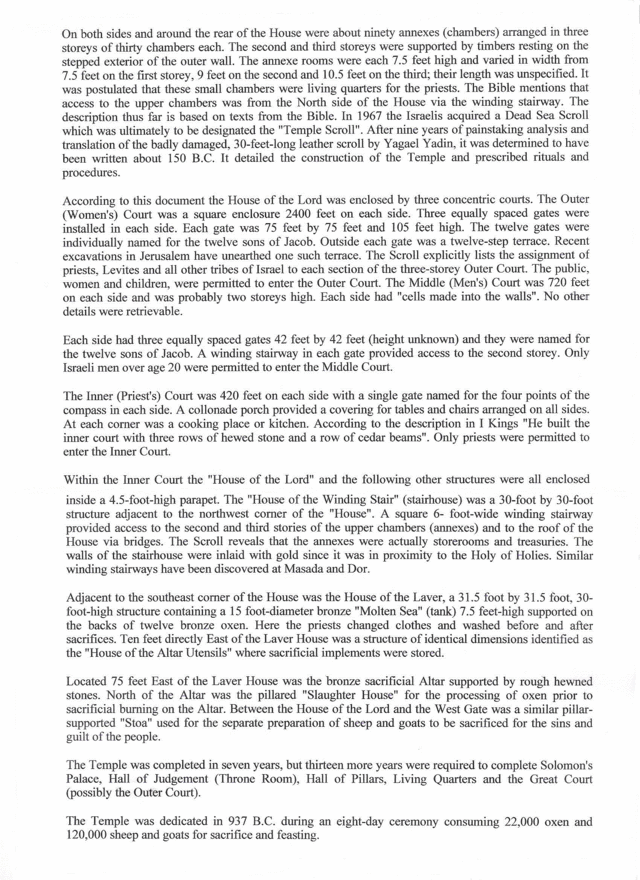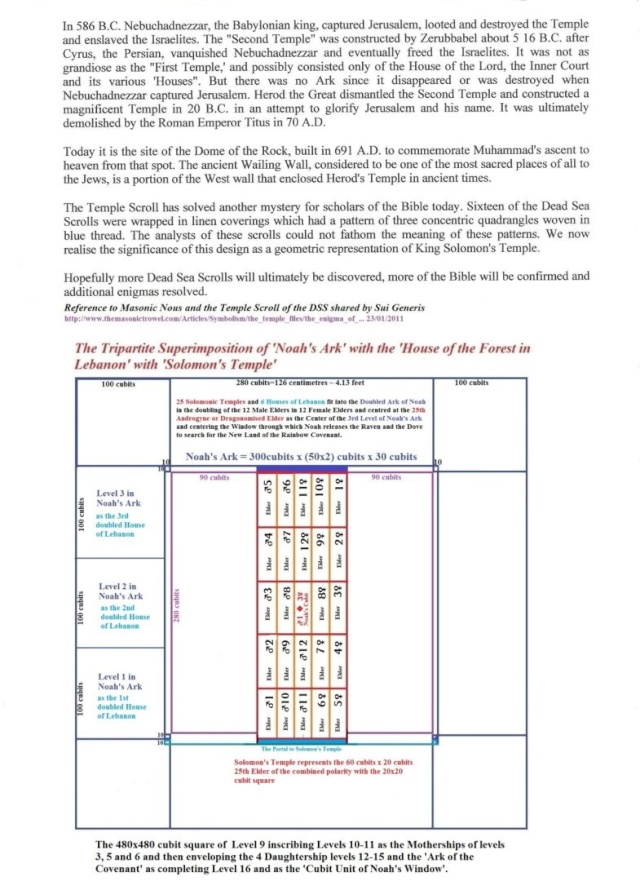 The 480x480 Cubits square measurement is encoded as the 480 years following the Israelitic captivity in Egypt as per 1Kings.6.1.1 and Acts.13.17-22.
Those 480 cubit years are also the sum of the four daughter levels in 300+100+60+20=480 as the cubit measurements and so allow the finestructuring of the mothership-daughtership transition.

The Moses archetype is none other than the Egyptian pharaoh Akhenaten (meaning Living Spirit of Aten or Aton); who renamed himself from his older name Amenhotep 4 to introduce the monotheistic God of Jacob and Joseph in his 17-year rulership from 1353-1336 BC or 1351-1334 BC according to historical sources.

In the Amarna period (which is given in the pharaoh's residence being located at Akhetaten, meaning the Horizon of Aten instigated by the rulership of Akhenaten 1353-1336 BC), an outbreak of a pandemic and a plague of diseases occurred; from which the symbols of the 'Plagues of Egypt' under Moses originates as a historical licence of interpretation of the Hebrew scribes.

After four years of reign, like Solomon, Akhenaten began building a new city to serve as the seat of the Aten and a governmental capital of Egypt.
Superposing the death of Akhenaten as the year 1336 BC then, and specifying this as a Mirror for the Exodus in the year of Rameses 2 as 1237 so defines a 200 year period between the 3 pharaohs of the exodus in Thutmosis 3, Akhenaten and Rameses 2 from 1437 BC to 1237 BC and centred on Akhenaten-Moses in 1337 BC and the transformation of the name Mosis in Thutmosis to Moses in Akhenaten to the Meses in Rameses.

The 430 year sojourn of the Children of Israel in Egypt (Exodus.12.40 and when Moses was 80 years old; Exodus.7.7), followed by 40 years in the wilderness of Sinai; so become 470 'prophetic' years from the Egyptian captivity from the Thutmosis Exodus of 1437 BC to 1007 BC and encoded as the 'Age of the Judges' in the Torah.

The story of Saul, as the first King of Israel so 'coincides' with the Birth of David, the 'anointed messianic' King of Israel in 1047 BC and resets the agem or 'time' of Moses as the 80 years from 1047 BC to 967 BC and the construction of Solomon's temple.
This incorporates the 40 year wilderness of Sinai as the time of David's birth in 1047 BC to his inauguration as Ruler of Israel in 1007 BC for 40 years to 967 BC when King Solomon reigns for yet another 40 years until the dividing of the Israelitic Kingdom following Solomon's death in 927 BC.

This timeline is then 'adjusted' to the biblical chronologies in resetting the Thutmosis Exodus by say 7 years to 1430 BC for aligning the reign of David as the first millennium BC at 1000 BC and the building of the Temple of Solomon 40 years after this at 960 BC and the death of Solomon at 920 BC as as supported by some historical evidence.
In this adjustment, the Akhenaten-Moses Exodus becomes 1330 BC and the Rameses 2 Exodus dates to 1230 BC.

As the time interval between Rameses' exodus of 1237 BC to Solomon's Temple in 957 BC is 280 cubit years as the transition value of Level 5 between the Mothership Level 4 and the Daughtership Level 1, both in the 300 cubit measurement; the encoded timeline for the exodus as described in the Torah is deciphered in the 3 pharaohs of the Exodus and using the racial memory of the 'shepherd kings' in the Hyksos as a historical basis for the metaphysics of the archetypes.

The 4th year of Solomon's reign so becomes 957 BC in the chronology of the historical archives, setting Solomon's reign and the death of David, his father at 961 BC and beginning the snynchronisation of the parallelism between actual biblical history from the hitherto archetyped symbolisms and allegories.

As is described elsewhere, Adam and Eve never existed as personas, neither did Noah, Abraham, Isaac, Jacob, Joseph and Aaron.
They are starsigns combined in houses or sectors and in associations of symbols.
Everyone with a birthday is an Israelite, a Chosen One, by definition of the Word of God.

The historical correlations do not begin until the times of the first Israelitic Kings: Saul and David and Solomon.
Moses never existed, neither did the Exodus as dated to Rameses 2 at 1240 BC.

Solomon's (symbolic and archetyped) Temple was built so 957 BC, 480 years after the Exodus as per 1Kings.6.1; so the time of Rameses 2 and Merneptha, as the 'pharaohs of the exodus', cannot be reconciled with the history of the Exodus; as this would lead to the time of the 1437 BC and the 18th dynasty in pharaohs like Thutmosis 3 and 140 years after the great MOSEAN transformation of Akhenaten and Nefertiti from whom the Moses mythology had developed after the 'real Exodus' of the Hyksos, the 'shepherd kings' who had INVADED Egypt and ruled from in the upper parts of Egypt from so 1620-1530 BC and in the 17th dynasty and back to the 13th in the 1800's BC.

Ahmose drove the Hyksos from Upper Egypt and this became mythologised as the Exodus of Moses.

The Hebrew chronicles and genealogies are all made up from the archetypes of the patriarchs and it is this which is chronicled and then made Talmudic Law and Almanacs in the Jewish archives and records.

There were no pharaohs named Ramses before Ramses 1, founder of the 19th dynasy about 1295 BC and the habit of naming places and locations after the pharaohs is well archived.
The metaphysical exodus so occurred 1437-1430 BC in the reign of the 18th dynasty pharaoh Thutmosis 3 (meaning Thoth is born), but this became a 100 year displacement from a historical Exodus of the Hyksos 1537-1530 BC under Ahmose 1, the founder of the 18th Egyptian dynasty.

This century of years also was projected forwards onto the time of the 'God of Israel' as Aten, the God of Jacob and Joseph in pharaoh Akhenaten or Amenhotep 4 at the time of 1337-1330 BC and overall points to the First King of Israel in Saul of 1047 BC and as coinciding with the Birth of the 'Anointed' King David of Israel at 1047 BC and 480 years from the Hyksos Expulsion at 1527 BC in this timeline reckoning and within the historical dating for both of the proposed 25 year reigns of Ahmose 1 from 1550-1525 BC or from 1539-1514 BC.

This then incorporates the 10 year variation between 430+40+10=470+10=480 as the encoded quasi-historical chronology for the building of the Temple of Solomon and as say the quasi-historicity for the reign of Solomon from say 960-920 BC and from 970-930 BC in the synchronisation between scriptural encoding and historical accuracy.



http://en.wikipedia.org/wiki/Ahmose_I
http://en.wikipedia.org/wiki/Ramesses_I
http://en.wikipedia.org/wiki/Thutmosis_III
http://en.wikipedia.org/wiki/Akhenaten
http://en.wikipedia.org/wiki/Pharaoh_of_the_Exodus#Pharaoh_of_the_Exodus
http://en.wikipedia.org/wiki/Ramesses_II
http://en.wikipedia.org/wiki/David
http://en.wikipedia.org/wiki/Solomon
The New World according to the Twin Logos
Last edited by Didymos on Tue Oct 23, 2012 12:31 pm; edited 102 times in total